Deep Sea Charter Boat Fishing Serving Jupiter, Juno, West Palm Beach, Singer Island, Hobe Sound and Stuart Florida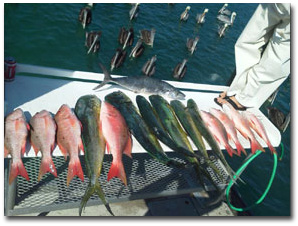 Charter Fishing in Jupiter, Stuart, Singer Island, Juno, Hobe Sound, and West Palm Beach, Florida has never been so convenient. Fishing in Jupiter is some of the best in Southeast Florida. Jupiter, FL is actually known as a Funkly Little Fishing Village. Good Time Charter Fishing is located just minutes from Jupiter Inlet, Florida, and is in close proximity to local hotels and restaurants. Although we are located in Jupiter, Florida, we also serve West Palm Beach, Singer Island, Hobe Sound and Stuart, Florida. Come and enjoy a south Florida deep sea fishing experience with an incredible variety of fish, large and small, available on the reefs off of Jupiter, Juno, Singer Island, and Hobe Sound. Whether you are looking to go charter fishing for dinner or for sport, great charter fishing action can be found year round. Deep sea fishing catches include snapper, grouper, dolphin fish, cobia, kingfish, trigger fish and a wide variety of other reef dwelling fish that are equally good to eat.

Good Time Charter Fishing in Jupiter Florida limits its fishing capacity to a maximum of six passengers to provide both comfort and excellent service to customers. Local fishermen love the fact that we catch a lot of fish, but we are also family friendly. So, taking your family fishing on Good Time Charter Fishing while you are on vacation in Jupiter, Juno, West Palm Beach, Singer Island, Hobe Sound or Stuart, FL is a must. Our goal of showing fishermen and fisherwomen a "good time" is so important to us, that we put it in our name.
We are also a Gray Taxidermy agent. If you catch a trophy fish that you would like to have mounted and hung on your wall, please let us know. You can now mount your catch and still take it home and have it for dinner.
Please enjoy our charter fishing website. If you have any questions about fishing, fishing on my boat or any other questions, please feel free to contact us at:
561-277-5941

Fishing Report
February 13th - We were able to get out fishing today and yesterday. The fishing was awesome. There were a ton of king fish and nice big snappers around. February 7th - Happy Super Bowl Sunday!! We tried to get out the morning, but it was too cold and rough. February 5th - Snapper fishing before this wind was awesome! Our night trip on Monday caught 60 snappers. Unfortunately, we have been tied up the last few days due to the seas. We are hoping to get trips in tomorrow.

Current Weather from the Weather Channel
Singer Island, West Palm Beach, Jupiter, Juno, Hobe Sound and Stuart have a rich history. Below are some of exerts from websites that give details about their histories. We have also included links to the left. Please take time to read about our amaizng history.
Fishing Town of Jupiter Florida History
The area that includes the Town of Jupiter, Florida was called Jobe (Hoe-bay) by the Spanish, for the nearby Indian village. When the English arrived in 1763, they interpreted the name as Jove and referred to the area as Jupiter (in ancient mythology, Jove and Jupiter refer to the same god).
Fort Jupiter was built in 1838 after a battle with Seminole Indians on the Loxahatchee River . The 9,088-acre Jupiter Military Reservation that was created around it in 1855 included the site of the Jupiter Inlet Lighthouse and the location of the second Fort Jupiter where the Fort Jupiter Post Office was activated from 1855 to 1856, during the Third Seminole War. The garrison's chronic illness and the inlet's tendency to close made the fort too difficult to man or supply and it was closed in 1860.
Lighthouse keeper James Armour opened the Jupiter Post Office briefly during 1884. Three years of inactivity followed before Mary Moore "Mollie" Carlin reestablished the office in 1887 at the Jupiter Lifesaving Station , where her husband, Charles Carlin, was the keeper.
The DuBois family is one of Jupiter's pioneer families; their former homestead, on the south side of Jupiter Inlet once known as Stone's Point, is now part of Palm Beach County's DuBois Park and reveals much about life in early Jupiter. John Rue DuBois, the eldest son of Harry and Susan Sanders DuBois , carefully preserved artifacts found on their property, which were later examined by the Florida State Museum. (read more)
Fishing City of Stuart, Florida History

Stuart, Florida was first settled in 1870. Incorporated 1914. Chartered 1925. Known as the County seat, Stuart, Florida was originally named Potsdam from 1893 to 1896 and was named by Otto Stypman one of the earliest settlers of Stuart, Florida (History of Martin County, by Janet Hutchinson) Otto Stypman and his brother, Ernest, came here in 1892 and were originally from Potsdam, Germany. The Stypman brothers originally owned what is now known as "Downtown Stuart", and were large landowners. They started their fortunes here in pineapple farming. The name was changed to Stuart, Florida after the FEC railroad was established and was named after Homer Hine Stuart, Jr., another early settler. Click here to learn more about Stuart, Florida. Stuart has a rich fishing history as well.
West Palm Beach, Florida
When Henry Morrison Flagler first came here in 1893, he called the Lake Worth, Flordia region "a veritable paradise" and decided upon a dual plan for the area. He would turn Palm Beach, Florida into a resort and he would build a commercial city across the lake for his workers. That "worker city" would become beautiful West Palm Beach, Florida.

Flagler had his city laid out in November 1893, naming the streets for native plants. Running east and west were Althea, Banyan, Clematis, Datura, Evernia and Fern streets. North-South avenues were Lantana, Myrtle, Narcissus, Olive, Poinsettia (now Dixie Highway), Rosemary, Sapodilla and Tamarind. On Nov. 5, 1894, by a vote of 77 to 1, residents of the little town decided to incorporate the city of West Palm Beach. It soon became a bustling frontier town with storefronts along Clematis and Narcissus streets, and saloons lining Banyan Street. Banyan Street became as wild and well-known as any raucous town in the Wild West. It was so notorious that famed anti-alcohol crusader Carry Nation visited in 1904, wielding her Bible. (read more)

Singer Island, Florida
The first record of a settlement on Singer Island, Florida dates back to 1906 with Inlet City. Inlet City was a spontaneous community of fishermen and squatters, most of whom came from nearby Riviera Beach, Florida and the Bahamas. Fishermen were attracted to the island as a place to dry the cotton nets that they used in those days, and for its proximity to the fertile Gulf Stream (the waters of the Gulf Stream are closer to land on Singer Island, Florida than any other place in North America!).

Singer Island, Florida was named for Paris Eugene Singer, the famous developer of Palm Beach and 23rd child of Isaac Singer, the sewing machine magnate (Paris also fathered a son with legendary dancer Isadora Duncan in 1910*). In 1920, he visited Palm Beach, Florida and met Addison Mizner. He agreed to pay the architect a $6,000 a year retainer for life if his work was confined exclusively to the Palm Beach, Florida area. With Mizner, he created the Palm Beach we know today with its Spanish architecture, picturesque streets and exclusive shops. Singer often took his friends on picnics to the beautiful island directly north of Palm Beach, Florida. In anticipation of the Florida real estate boom, he and Mizner planned to develop a luxurious resort (the Paris Singer Hotel) on the south end of the island and a modest hotel (the Blue Heron) on the north end with a 36 hole golf course between the two structures. (read more)