The Good Time 2 is a 46 foot Newton charter boat built in the Spring of 2017 and runs out of Jupiter, Florida. The Good Time 2 provides up to 12 passengers with 36 feet of fishing space off the side of the vessel and 16 feet off the back of the vessel.
The Good Time 1 is 36 foot Henriques and runs out of Riviera Beach (Singer Island, Lake Park and West Palm Beach). The Good Time 1 takes up to 6 passengers.
7 - 11 a.m. * 12 - 4 p.m. * 4:30 - 8:30 p.m (4:30 trips are private charter only)
Fare is $80 Per Person if using CASH

**Fare is $85 Per Person if using a Credit Card**
We also provide private charters. Private charters can be used for fishing trips, booze cruises, sight seeing cruises, sand bar excursions, Peanut Island excursions, etc. Private charters on the Good Time 2 run $800 for up to 10 passengers and $80 per passenger over 10 passengers. Private Charters on the Good Time 1 cost $480 for up to six passengers. The Good Time 1 is great for watching West Palm Beach firework displays during July 4th and New Years and has quick access to Peanut Island for a day of fun on the water.
Fare does not include gratuity. People often ask what a proper tip is for the crew. To make it less awkward, we decided to address it on our website. The average tip is $20 per person. Some tip more, some tip less. Your crew gets paid similar to a food server. Most of their income comes from gratuity. The only difference is a food server waits on you for a half and hour. Our crew waits on you for four hours!

Bait - Tackle - Licenses Provided
Visa / MasterCard / Amex / Checks / Cash
Rods / Bait / Bottled Water / Licenses Provided
Live Bait Provided When Available
Advanced Reservations Recommended
Call
561-277-5941

to Reserve Your Trip Today!

U.S.C.G. Licensed and Insured


Our Deep Sea Fishing Crew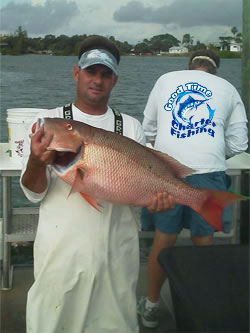 Captain Byron Allen is the owner and operator of Good Time Fishing Charters. Captain Byron was born and raised in Jupiter, Florida and has over 25 years of experience in boating and fishing.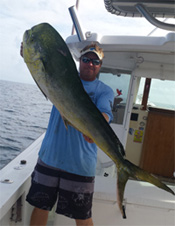 Captain Rip Munsterman was born in Flordia and is a third generation resident of North Palm Beach Florida. He has been working on drift fishing vessels in the Palm Beach and Jupiter areas since 1991.
Come and enjoy a South Florida Deep Sea Fishing experience with an incredible variety of fish, large and small, available on the reefs off of Jupiter, Florida.
Great action can be found year round - whether you are fishing for dinner or sport.
Ask us about private charter excursions and sightseeing seeing tours.
Children are always welcome!