Get Up Close and Personal With Sharks During Summertime Fishing in Jupiter and Palm Beach Waters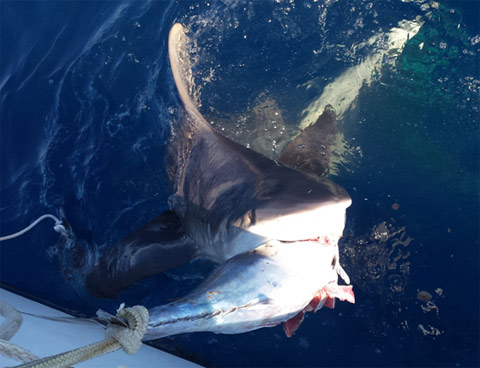 During the summer months in Jupiter, Juno, Riviera Beach, Singer Island and West Palm Beach, Florida, the shark population is absolutely amazing! This photograph is one of hundreds of sharks we have had at our boat over the years. For the true shark lover, book a private shark charter and we will take you out to feed one of these beautiful sharks from a rope like above. You can also experience the fight of your life by doing some catch and release battle with these monsters!
Some Facts About Bull Sharks
The Bull Shark - They're everywhere you wouldn't expect them to be! Known as the Carcharhinus Leucas in the scientific community, it has a stocky figure and a broad, flat snout. This is one of 43 shark species that can live in both seawater and freshwater. That fact alone makes this one of the best known shark species. This species is known by several different names depending on its whereabouts: Zambezi Shark, Nicaragua Shark, or Ganges River Shark.
But this shark is also known as one of the top 3 sharks most likely to attack humans (the other 2 are the Great White Shark and the Tiger Shark ). Of course, we know that shark attacks are extremely rare (less than 4.5 deaths by shark attacks per year globally), but nonetheless, this shark has been nicknamed "The Pit Bull of the Sea" because if its aggressive behavior.
Most sharks have the same salt concentration in the blood as the sea water they are swimming in. This isn't the case with Bull Sharks. Instead, they only have 50% of the salt concentration in their blood. This makes them very special as they are able to switch from saltwater to freshwater very easily. The only consequence is they produce 20 times more urine when swimming in fresh water.
After about 10 years, they reach maturity. Adults are normally about 3.5 meters (11 feet) long and weigh approximately 300 kilograms (660 pounds). Typically, females are larger than makes and generally live longer. Most males live for about 13 years, while females live to about 17 years of age.